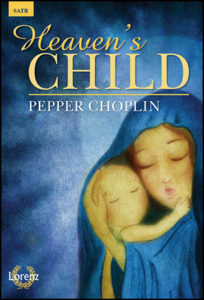 Chancel Choir
Christmas Cantata
Sunday, December 18
"Heaven's Child"
by
Pepper Choplin
Our Chancel Choir will present "Heaven's Child" by Pepper Choplin as their Christmas Cantata on Sunday, December 18 at 11:00 a.m.
About this work: Heaven's Child is a transforming presentation, taking us deeply into the mystery and awe of Christmas and into the eternal significance of that perfect union of heaven and earth — the divine and the human. It was then, at the first Christmas that . . . the nature of God was fused with the human heart, and the fruit was perfect. And the Master Composer, Who at that moment breathed the song of Christmas into existence, now stirs the music in all of us to once again celebrate the coming of heaven's Child. Like Simeon, we have see the truth of the Child, and the promised salvation, and we may now live forever with peaceful hearts and restored souls. All of this is ours, from Heaven's Child."
Members of our Chancel Choir sang this cantata under the direction of Pepper Choplin in Carnegie Hall, New York City in December 2019.