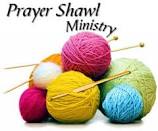 Prayer Shawl Ministry Team
  Celebrates Their Second Year Anniversary
  On January 18, 2017
Members:
            Mary Ayres                  Cindy Barrow                        Mary Carone
            Shirley Carlton          Marilyn Frater                      Susie Gaus   
            Laura Hinson            Dottie Obenour                     Carol Potter
            Sandy Ward                Vanessa Ward                     Joan West     
            Pat Wilson                  Christy Wintrode
    In the second year 87 prayer shawls were made.  We gave away
 66 prayer shawls   1 lap blanket   3 baptism shawls   9 baby afghans
We are very grateful for the generous donations to our ministry provided through our fellowship dinners sponsored by Congregational Care Ministry Team, Yarn donations, and money donated by the congregation that enabled us to provide these wonderful handmade items.
            We have sent prayer shawls to Boston MA; Cedar Springs MI; Cape Cod MA; Indialantic FL; Philadelphia, PA; Atlanta GA; Annapolis, MD; Texas; Surf City, NC; Connecticut; Wisconsin; California; Utah; South Carolina; Raleigh, NC; Chicago, IL; New York City, NY; and Romania.
            We are thankful for our ministry team and their interest in creating lovely prayer shawls for lovely people.  If you can knit or crochet and would like to join our Ministry Team, please contact Dottie Obenour or one of the members.  Thank you and God Bless.