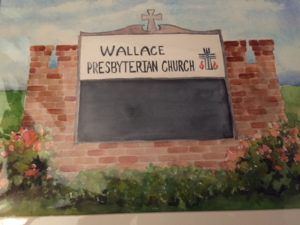 Our church has many activities and events throughout the year. It is important to share all that Wallace Presbyterian Church has to offer with our entire community. To help facilitate the sharing of information, the Session approved the purchase of an additional church sign. This sign allows us to announce multiple events in a timely manner. Anyone who drives past the church on Main Street will be able to see our upcoming activities, sermon information, worship times, scripture quotes, etc. The new digital sign will be placed near the manse to allow a clear line of sight for passing cars. Our current historic sign will not be moved, but we hope to spruce up the landscaping around the base.
Would you or your extended family like to be a part of this community outreach effort? Our church has a wonderful history of family donations and memorial gifts for various projects to honor loved ones. Contributions or memorials to support a portion of the project would be greatly appreciated. The project consists of the costs for the sign itself, the brick structure which will frame the sign, the electrical work to hook up the sign to the church, and the new landscaping around the brick frame and around the historic sign. If you would like to sponsor a specific part of the project or donate towards the overall costs, please contact Dean Hanson (Building and Grounds) via drhcrou@hotmail.com or (910) 665-1131. Sponsorships will be acknowledged by having your name on a permanent plaque added to the new sign.
Special thanks to the committee members who gave many hours towards this effort: Harriet Farrior and Lee Baker for their layout and design efforts; Pat Barrow for his installation planning and construction oversight; Dan Robinson for his guidance and financial suggestions; and Dean Hanson for his research of sign companies. We hope the sign will be a reminder and invitation to the great things happening in our church for our members and the Wallace community.