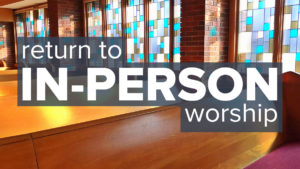 Wallace Presbyterian Church
In-Person Worship
We offer this plan to the glory of God, with the desire for our congregation to return to in-person worship, and with a commitment to protect as much as possible the health and safety of the people who choose to return to the Wallace Presbyterian Church for in-person worship.
For worship, you will be asked to:
* Make a reservation for worship by 12 noon on Thursday using the link on the church website, using the registration link emailed each Monday and Wednesday, or by calling the church office. This head count will help worship coordinators in planning and preparation.
* Access the sanctuary through the Main Street doors or through the door under the portico if needed. Access to the sanctuary from the Fellowship Hall will be through the door nearest the kitchen.
* Sign in at a registration table (so we can track people in case of an infection) and have your temperature checked.
* Wear an appropriate face covering at all times while in the sanctuary and church building.
* Sit in pews while observing the recommended 6 feet of social distancing. This may mean you don't always get to sit in your regular pew.
* Leave the sanctuary after worship in an orderly manner that maintains appropriate social distancing.
What you can expect in worship:
* The sanctuary will be cooled or heated as needed but the HVAC system will not operate during the worship service.
* Printed bulletins and hand sanitizer will be available on tables at registration.
* The order of worship and congregational responses will also be projected on a screen near the piano.
* Containers for your tithes and offerings will be available at registration.
* The worship service will be modified somewhat to shorten the amount of time people are gathered together in an enclosed space.
* The congregation will be able to sing hymns and responses when wearing appropriate face coverings.
* Live-stream worship will continue for those who choose not to return to in-person worship yet.